Master's in Sustainable Development (minor)
Sustainable Development requires the cooperation of various people and disciplines. In the Sustainable Development master's minor, as well as learning about the global challenges, analysis and transformation concepts and action models, you learn how to incorporate the ideas on sustainable development in your major discipline. This should enable you to bring these into your professional life and actively contribute to sustainable development.
The MSc Mi NE provides you with research-oriented and applied content and methodological skills, enabling you to deal with sustainable development issues within and across disciplines and thus to incorporate specific knowledge and abilities in this discipline in a productive way. You deal with global social challenges regarding sustainable development, the status and perspectives of research in this regard and interdisciplinary and transdisciplinary theories and transformation approaches for sustainable development. Tuition and support is also provided for you to acquire skills in interdisciplinary and transdisciplinary research and project work as well as skills in methodology, reflection and communication. This enables you to actively incorporate their subjects and interests. The
flyer
provides an overview of the master's minor NE.
Basic information

| | |
| --- | --- |
| Degree: | - |
| Degree programs: | Minor 30 ECTS credits |
| Combination possibilities: | several; see master's major |
| Duration: | The period of study is in line with the master's major |
| Languages: | 90% German / 10% English |
| Beginning studies: | Fall or spring semester |
Details of program
Content:
In the Master's minor in Sustainable Development, you will learn basic principles in natural science, social science and humanities regarding how to deal scientifically with sustainable development issues, and particularly with the global social challenges relating to sustainable development, the status and challenges of research and the contribution research makes to surmounting the global social challenges and finding general solution approaches. You will learn about interdisciplinary and transdisciplinary theories, analysis and transformation approaches to sustainable development and models, strategies and tools for dealing with the promotion of sustainable development. This enables assessment of their potential use. There is also a special qualification regarding how sustainable development can be incorporated in the specific major discipline and how disciplinary issues regarding sustainable development can be dealt with. You will also learn how to design, undertake and evaluate interdisciplinary and transdisciplinary projects.
Methods:
You will be able to deal with sustainable development issues in a way that is appropriate within the discipline and across disciplines. You will be able to collaborate with other students from various disciplines and people involved in academia and practice in dealing with issues of sustainable development in a focused manner. This will enable effective incorporation of the skills learned within the discipline, and other skills acquired during interdisciplinary and transdisciplinary collaboration. In the process, you will learn about theories, analysis approaches and research methods that are suitable for application when dealing with issues of sustainable development (methodological skills). You will also learn to communicate appropriately (communication skills), design and undertake interdisciplinary and transdisciplinary projects independently (project management skills) and to critically reflect on the contribution you have made with your interdisciplinary and transdisciplinary work (reflection skills).
Scheme of program
What is the structure of the master's minor in Sustainable Development?
The master's minor in Sustainable Development is structured into three components: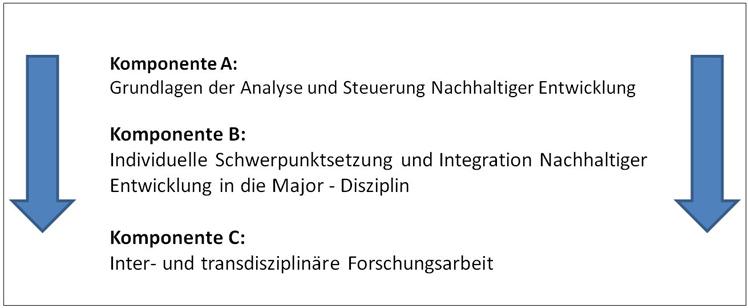 Click on the following components to learn more about their contents.
Overview of the components with courses: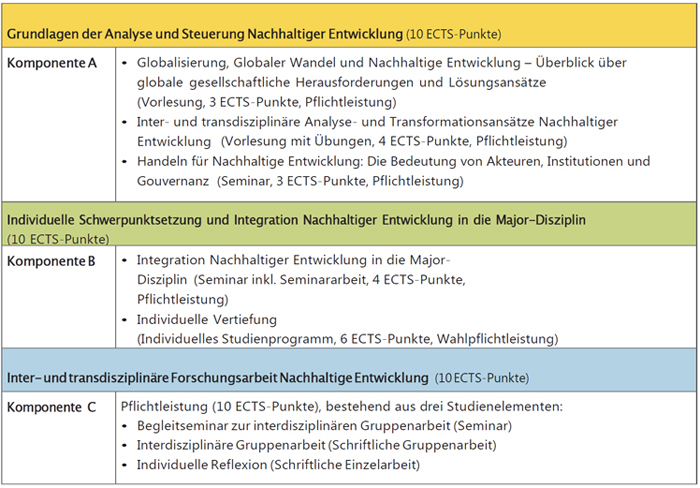 Procedure, specifications and recommendations for the individual STPL
As the components of the master's minor in Sustainable Development build on each other in terms of method and content, the STPL needs to consider the following points:
Component A is worth 10 ECTS credits and consists of one lecture (3 ECTS credits), one lecture with exercises (4 ECTS credits) and one seminar (3 ECTS credits). Component A is taught each year in the fall semester and constitutes the foundation and requirement for attending components B and C.
Component B is worth 10 ECTS credits and consists of one seminar with individual written work (4 ECTS credits) and a complementary individual study program (6 ECTS credits). The seminar takes place in the spring semester. The complementary individual study program can be completed in the 2nd, 3rd and/or 4th semester. Students must successfully complete component A before they can be admitted for component B.
Component C is worth 10 ECTS credits and consists of three elements of study: attendance at a seminar on interdisciplinary group work, interdisciplinary group work and individual reflection. The three elements form one unit and may not be completed separately. Component C takes place every year, beginning in the middle of the spring semester (semester week 8) and continues into the following fall semester. To be admitted for component C, students must have successfully completed component A and the seminar in component B, or they need to attend this seminar alongside component C.
Mobility
Deadlines
Registration and deregistration procedure
Requirements
Individual academic requirements
The following academic qualifications are required for admission to the study program in Sustainable Development (minor):
| | |
| --- | --- |
| a) | Bachelor's degree from a recognized Swiss university with a major in at least one of the branches of studies listed in Appendix 3 to the plan of studies. |
| b) | Bachelor's degree with a minor in another branch of studies (with special request for admission). Additional attainments may be required. The ECTS credits will be listed separately in the diploma supplement as extracurricular attainments. |
Students must consult with the academic student advice of the Interdisciplinary Centre for Gender Studies before they can begin the master's degree program.
The bachelor's degree may not be more than 10 years old. Exceptions are possible where justified.

Language requirements
For certain courses sufficient knowledge of French and English, along with knowledge of German, may be required.

For questions regarding application and admission, please contact the Admissions Office.
Promotion
Once you have met the specific requirements for the degree, you can apply for your degree to the Dean's Office. You will find more information on the graduation process here.